Volunteering
 
Make a difference by donating your time and special talents in a variety of areas!
_ Translations
_ Education
_ Front Desk
_ Museum Shop
_ Genealogy Center
_ Special Events and more!
Foster an appreciation for Italian history, culture and heritage. Volunteers enjoy participation in special events, social gatherings, and continuing opportunities to learn about Italian history. They also develop lasting friendships.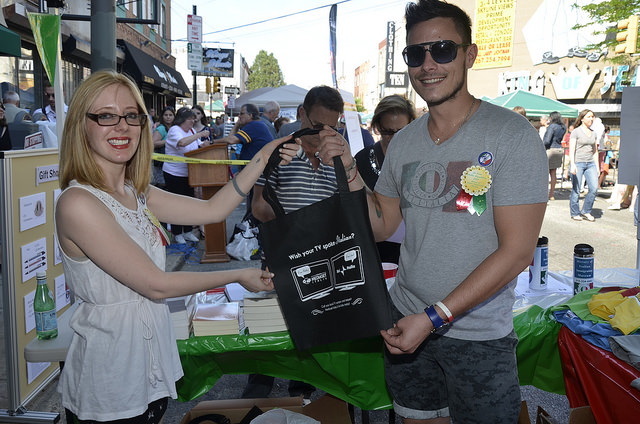 Note: The museum frequently creates new volunteer opportunities for special projects and events, as our organization grows, so stay tuned.
 
Volunteering at the Genealogy Center
History of Italian Immigration Museum Genealogy Center always welcomes new volunteers, especially individuals living locally with genealogical research experience and those able to translate from Italian to English.
Genealogy Center volunteers also bring a wide variety of skills to the museum. Some may live nearby and work to interview Italian Americans and extract Family Tales. Volunteers may represent the Genealogy Center at genealogical and Italian conferences and festivals. Others live at a greater distance and contribute by translating Italian documents, entering data on their home computers, or photographing tombstones. A number of volunteers keep their eyes out for obituaries of Italian immigrants, Italian-Americans and other material of interest to the Genealogy Center collection and send them to the library. Regardless of what each volunteer does, he/she contributes to our ultimate goal of helping people find information about their Italian ancestors and background.
Contact us now to become a volunteer
Internships
 Internships
The HIIM offers unpaid, credit internships for undergraduate and graduate students throughout the year. An internship is a great way to gain real-life experience working in a new- small-size museum during your Fall, Spring, or Summer semesters. Internship schedules are flexible based on each interns work and school schedules and the projects in the HIIM.  For internships, please send a cover letter and resume identifying desired position.
Collections Management
Collections interns will have the opportunity to assist in all aspects of Collections Management and Registration including processing, cataloging, provenance research and proper artifact handling and storage. Interns will gain direct experience with and knowledge of the HIIM's Collection.  Tasks may include daily management of cataloging, documentation, storage and care of material in the museum.
Education
Education interns will assist in the development and research of school, family, and adult programs, the development of gallery guides and other printed materials, planning, managing and directing public programs and events, and scheduling and training volunteers.
Marketing/PR and Special Events
Marketing/PR/Events interns will have the opportunity to gain experience in three different aspects of HIIM operations, including events planning, marketing, and public relations. Tasks may include but are not limited to organizing and evaluating advertising and marketing initiatives and assisting with external and internal HIIM events.
Exhibit Development
Exhibit Development interns will help create new exhibits or enhance displays of existing focused areas on display at the museum. Some ideas may be to develop exhibits such as the "Lanci Bakery", "Shoe Cobbler", "Wedding Dress Making", "Tailor", "Religion & Folklore", or "American Dreams!"
Digital Marketing Specialist
Digital Marketing Specialist will assume responsibilities for managing, up-dating, and enhancing all digital marketing channels to expand HIIM exposure. Intern may assume responsibilities for managing and up-dating filitaliainternational.com website, and develop social media channels, with a vision toward mobile applications, and marketing outlets yet to be discovered.
Expansion Planning
Expansion Planning Intern will research and define possible avenues that Filitalia International might take to expand museum footprint and grow the organization in new ways.
Oral History
Oral History interns will work in any aspect of researching, organizing, collecting, editing and maintaining oral histories for future documentation and future inclusions. In addition, interns will assist researchers, and participate in the creation, day-to-day maintenance and management of the oral history collections.
To inquire on how you may help volunteer/intern at The History of Italian Immigration Museum, please contact us at www.filitaliainternational.com. We have various volunteer opportunities available and we greatly appreciate your interest and support