History of Italian Immigration Museum
Celebrating Italian Roots & American Dreams!
Filitalia Foundation, a 501 (c) 3, is a private non-profit organization created in 1987. 
In 2014 it opened the History of Italian Immigration Museum in the heart of South Philadelphia.
The Museum exists to: 
• Preserve the Italian immigrant heritage through stories that apply to all cultures,
• Connect the Italian-American community with its cultural roots,
• Share that heritage with people of all backgrounds.
The idea of opening a museum was originally suggested by Dr. Pasquale Nestico and enthusiastically approved by Filitalia International Board of Directors. During the 2013 Filitalia International convention Michael Bonasera was asked: "Why members should reelect you to the Board?" He confidently declared: "Because I will ensure and vow to create a museum within a year!"  
With the project management skills of my wife, Wanda, an Idea Map was developed and project team created. Special thanks to: Michael Bonasera – Museum Concept, Design, Build, Collection Management; Wanda Bonasera – Project Management;  Caitlin Borrelli - Communications; Paula Bonavitacola - Fundraising; Rosetta Miriello – Operations; Dr. Pasquale Nestico - Capital Campaign; Salvatore Rosati – Board member, advocate & Tour Guide;  Nick Santangelo - History Intern; and so many others who contributed their time, skills, donations and artifacts. After 9 long months raising funds, developing the museum layout, design and build of the initial exhibit areas, we finally celebrated our Grand Opening on June 1, 2014. The ribbon cutting ceremony at the La Festa celebration drew a crowd of thousands.
The History of Italian Immigration Museum (HIIM) is located in the heart of an historic, predominantly Italian American, part of Philadelphia, PA. Our founders started with humble beginnings when they emigrated from Italy with little more than what they could carry on the transatlantic voyage. HIIM started with humble beginnings in the basement of the home of Wanda and Michael … in concert with Filitalia motto: Umiltà – Giustizia – Onestà (Humility - Justice - Honesty).
HIIM visitors begin their adventure by tracing the voyages of famous explorers, who discovered, charted, and named the New World—America!  Witness the contributions of lesser- known Founding Fathers. Marvel at exceptional monuments built by Italian artisans. Live the struggles of millions of immigrants from southern Italy & Sicily during the Great Arrival where peasants toiled to make a living. Discover stories of laborers, fruit vendors, shoemakers, tailors and sweatshop workers. See the new exhibit featuring South Philadelphia merchants. Visit an authentic Barber Shop of the early 60s. Meet the barber and ask for a shave or razor cut. Discover your roots at the Genealogy Center. Never forget World War I & II national service and war effort where nearly one million Italian Americans served. And celebrate American Dreams come true as Italian Americans are represented throughout U.S. society, Supreme Court, Sports, Show Business, Politics, Science, Art and Music. The Museum also has a new home theatre as well as an updated Language Lab where Italian Language Classes are taught to children and adults from Introductory to Advanced Skill Levels.
HIIM's grand opening exhibit was titled "Italian Roots, American Dreams: Portraits of Our Ancestors" by Sandra S. Lee, author of several Italian Immigration books and Seton Hall University professor. This first exhibit inspired local South Philadelphia merchants to collectively ask "Why can't we have an exhibit featuring South Philly?"  Answer: "Yes, absolutely!"  The East Passyunk Avenue Business Improvement District EPABID organized and compiled an exhibit of historical photographs of East Passyunk Avenue businesses and their family member immigrants. South Philly – Italian Style opened December 4, 2014 to hundreds of visitors along with community tree lighting, Santa, hot chocolate, treats, and a strolling musical trio. The exhibit features over 50 captioned photos and great artifacts of a dozen landmark avenue business owners. The exhibit was reintroduced during Italian History Month - Ciao Philadelphia in October 2015 and represents another major milestone for HIIM.
Michael Bonasera
Museum Chairman & Curator
History of Italian Immigration Museum
1834 E Passyunk Ave.
Philadelphia, PA 19148
Phone 215-334-8882
Fax     215-551-0368
 Financial support for this publication provided by sponsors & supporters of HIIM
The word "Filitalia" means Love for Italy.  Filitalia goals are to preserve Italian-heritage, tradition and culture through: social, athletic and cultural events as well as humanitarian programs. info@filitaliainternational.com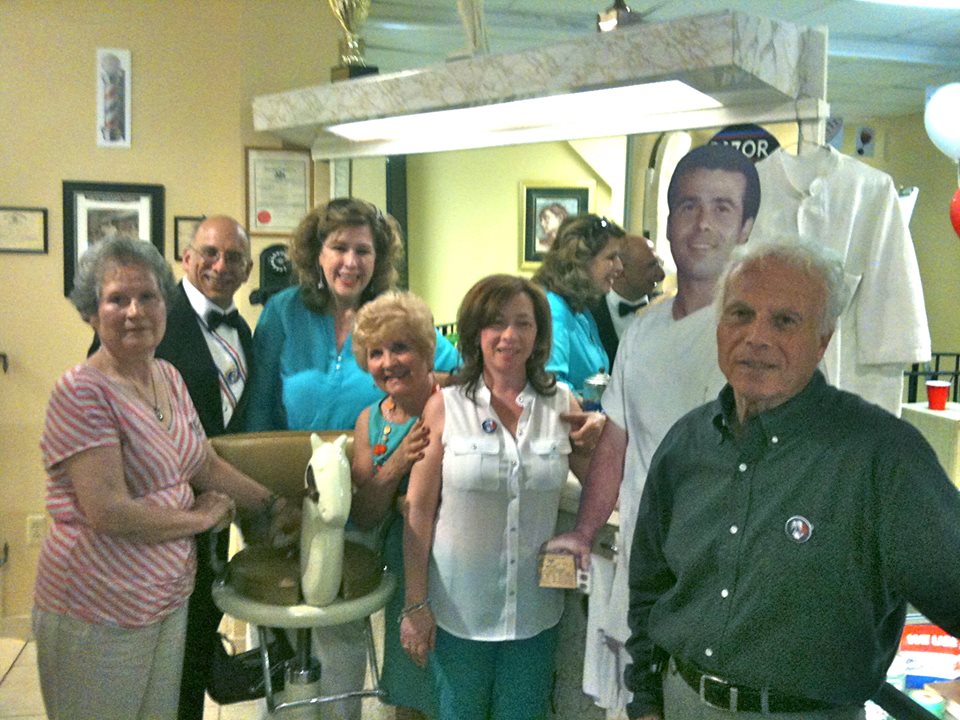 President's Message
Rosetta Miriello 
The official opening of the History of the Italian Immigration Museum is a history making event. It has been a community accomplishment that enables to keep the memory alive for all the efforts made by past generations.  It all started from a vision that our Founder, Dr. Pasquale Nestico had two years ago, June 2012. In the history of our organization, Dr. Nestico has had many dreams and vision and I am happy to say that they became a reality. We have this beautiful culture center where we have Italian lessons, cooking lessons, culture events and now the Museum.
I have learned that all his possible when you have strong leaders, like our Founder, Dr.  Nestico with vision, commitment, passion, integrity and strong determination but a leader needs also his people and I am happy to say that we have loyal members that support us in our projects. Thank you to our members, BOD and all of you that came out here today to celebrate with us this historical event.  It is in this spirit that I take this opportunity to thank the Co-chair of the Museum, Michael Bonasera for his hard work and passion he has demonstrated and Wanda Bonasera, Project Manager. In addition I would like to thank Paula DeSantis Bonavitacola, chair person of the fund raining committee. Our mission is language and culture and service to others and our motto is Humility, Justice and Honesty.
---
Collections as Embodiment of Museum's Purpose: The Museum collects examples of material culture which illustrate the history of the earliest Italian immigrants in terms of their lives in Italy before emigration, their travels to and means of reaching America and other parts of the world, and life here including occupations, social organizations, schools, churches, and homes. The Museum also collects representations of subsequent generations of Italian Americans, artifacts which reflect their achievements and contributions, continuing ties to Italy and Italian traditions, and their efforts to maintain communal expressions of their Italian heritage. Since Italian immigration is ongoing, both historic and contemporary artifacts are appropriate for the collections.